---
Cadet Unit
Introduction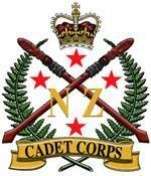 Fraser High School Cadet Unit is part of the NZ Cadet Corps (NZCC). The Cadet Corp along with Sea Cadet Corp (SCC) and Air Training Corp (ATC) form the New Zealand Cadet Forces (NZCF).
The NZCF is not part of the New Zealand Defence Force (NZDF), but is directed by the Chief of Defence Force, on behalf of the Minister of Defence, and is supported in partnership by the NZDF and the community.
The units coordinated programmes are purposefully designed to fulfill these aims.
We provide experiences and training for teenagers in leadership, self discipline, teamwork and self reliance. Camps and adventure type training feature high on the list of exciting and worthwhile activities that cadets can experience here at Fraser High School Cadet Unit.
Find us on Facebook at Fraser High School Cadet Unit.